Beyond the Nest Reviews Blackfriars' Peter and the Starcatcher
- by Carol White Llewellyn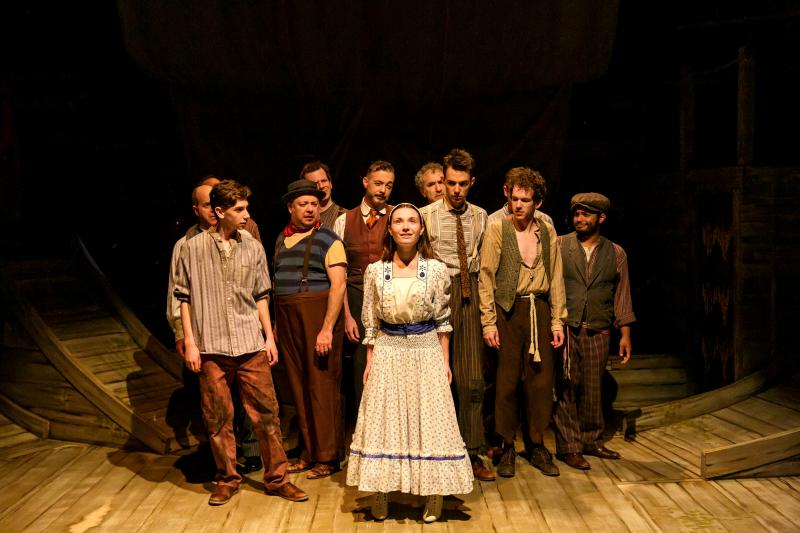 Most of us know the story of Peter Pan, but how many have heard the "back story" of how a wretched orphan becomes "The boy who never grows up?"
Blackfriars Theatre brings this story to life in its production of Peter and the Starcatcher, a Tony Award-winning play by Rick Elice. The play is based on the hugely imaginative book by authors Ridley Pearson and Dave Barry. While the book was written to appeal to kids age 9 and over, this play, with its imaginative alliterations, mature humor, and sprinkle of contemporary references, is targeted at  adults, although teens and mature pre-teens would undoubtedly enjoy it.
In true Blackfriars' style, the intimate stage is transformed into two pirate ships – The Neverland and the Wasp -- in act one, and alternately becomes the mermaids' lagoon, the billowing seas, the dank, dark cave of legendary crocodile Mr. Grin, and a magical island in act two.
The cast of twelve dynamically slips into the roles of close to 100 characters, from pirates and ships' mates to mermaids and Mollusk tribesmen.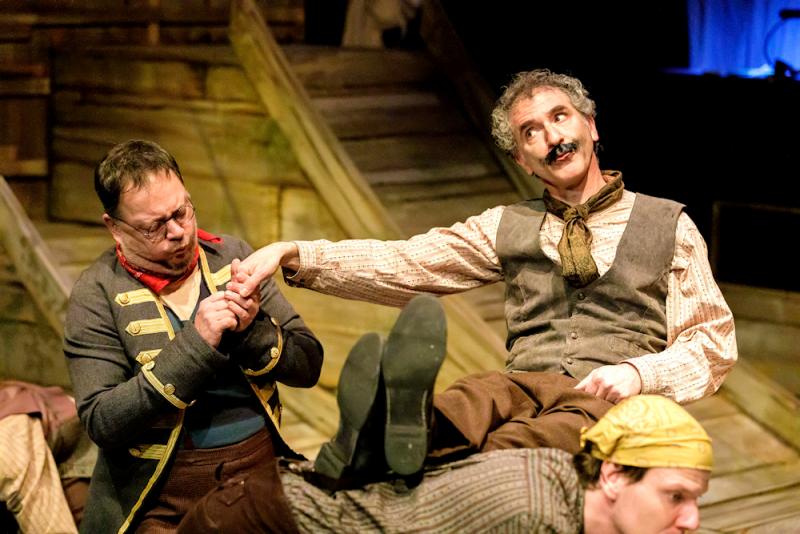 While the Broadway production used an all-adult cast, this production benefits from having youth in the roles of Molly (the precocious, starcatching apprentice), Peter (who begins the play with only the monikers of Boy or Mule), and Peter's orphan friends Ted and Prentiss.
As the whip-smart, courageous and defiant 13-year-old Molly, Marcella Cincotta shines. Although she, Prentiss, and Peter are always vying to claim the role of leader, there can be no doubt she is the heroine. As the play progresses, she grows in confidence, well on her way to heeding the advice of her Nanny Mrs. Bumbrake to "Be a Woman."
Harry Franklin as the Boy who would be Peter, is compelling as the embittered orphan who trusts no adults, has lived in squalor, and has never seen the sun. Ultimately, through his adventures aboard the ship The Neverland, through knowing Molly and realizing the importance of friendship with her, Prentiss, and Ted, he develops into an intrepid figure who can become the gallant, mischievous hero that thwarts Captain Hook at every turn.
Stefan Cohen cunningly creates the character of pirate captain Black Stache (Captain Hook, pre-appendage loss) that is simultaneously evil and laughable. When his intellect combines with confusion, he gives us some of the funniest scenes as Smee (Jeff Siuda) tries to guide him toward his best – or in Stache's case, worst -- self. Some of their bits of physical comedy are quite wonderful, and even echo back to comedic sketches by the Three Stooges.
Although they don't have long in the spotlight, the alliteration-spouting Nanny Mrs. Bumbrake (Jason Rugg), and the long-winded Alf (Hector Manuel) make courtship the stuff of comedic cut-up.
There are a few songs (music by Wayne Barker) sprinkled throughout, and although I found the play a bit long (the show runs just over 2 ½ hours with intermission), it is a rollicking, crazy, imagination-fueled ride of a production, in which the actors are clearly having a blast. The  cast is sublime at transporting us back to our childhood, where anything goes, and the most incredible possibilities become reality. Scenic Designer Eric Williamson and Costume Designer Janice Elizabeth Ferger both bring their 'A' game to this production.
Director Danny Hoskins has done a stellar job of staging this complex play, and of conveying the dark, filth-ridden, depressing life of both orphans and sailors in the first act, juxtaposed with the freedom, light, and air of the island soon to become Peter's forever home, that will become known as Neverland.
Peter and The Starcatcher can be seen at Blackfriars Theatre through December 31. Click here for tickets and more information. 
Photo Credits:
#1 & #3 - Cast of Peter and the Starcatcher | photos by Goat Factory Media/Ron Heerkens Jr.
#2 - Jeff Siuda (Smee) and Stefan Cohen (Stache) | photos by Goat Factory Media/Ron Heerkens Jr. 
---
Carol White Llewellyn is Editor of BeyondTheNest.com and the host and producer of Conversations with Creatives, a cable and online TV program that explores the arts and celebrates artists and their work.