Beyond the Nest Reviews Geva Theatre Center's Steel Magnolias
-By Carol White Llewellyn and Debra Ross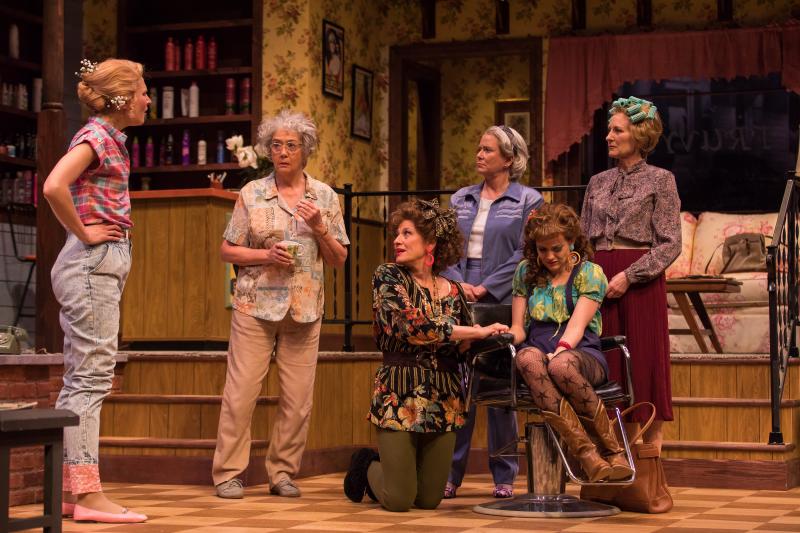 There are no villains in Steel Magnolias. There's no cheating, no pettiness, no backstabbing, no crime. There aren't even any stereotypes, aside from the bark of a few gunshots from the back yard next door. So you might assume there wouldn't be much energy or tension to drive a play set in a beauty salon in the mid-1980s in Chinquapin, Louisiana. You'd be wrong, of course. If you head to Geva Theater Center's production of Steel Magnolias, on Geva's Wilson Stage through June 3, you'll find you have more in common with this unique sisterhood of six strong and resilient Southern women than you ever thought. And even if you've seen the 1989 movie based on the play, you'll be caught up in the story that weaves together the joys and aggravations, celebrations and tribulations of their connected lives.
The play opens with Truvy Jones (Brigitt Marcusfeld) and new employee Annelle Dupuy-Desoto (Becca Ballenger) awaiting the arrival of same-day Bride-to-Be Shelby (Anna Crivelli) and her mother, M'Lynn Eatenton (Elizabeth Ward).  Enter, Clairee Belcher (Eve Plumb) and Ouiser Beaudreaux (Sandra Shipley), and we have the perfect storm for both laugh-out-loud comedy and great drama.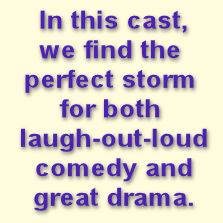 There are no shrinking violets in this cast.  As the linchpin of the group, Brigitt Marcusfeld's Truvy is all southern sassiness infused with warmhearted welcome. She draws "anyone who's anyone" to her salon, to bask in the glow of her personality and benefit from her belief that "there is no such thing is natural beauty," which she easily remedies. She welcomes newcomer-to-town Annelle, who blossoms from a "lost pup" whose husband deserted her, into a fervently religious woman who is often a source of humor. Anna Crivelli endows bride Shelby with a stubborn, spunky zest for life that doesn't desert even as increasing challenges befall her. Eve Plumb as Clairee, the late Mayor's wife (formerly Jan on The Brady Bunch) and Sandra Shipley as the curmudgeonly Ouiser have some of the funniest lines of the play, and they don't disappoint. Their impeccable timing lands a punch every time. Many will identify with the lovely, courageous and elegant M'Lynn, whose love for her daughter knows no bounds.  Elizabeth Ward gives us one excruciatingly long, perfectly-timed pregnant moment in which she holds the audience in the palm of her hand to allow an entire life to pass before us.
Although the men in this story – the spouses, sons, and fathers of all six women – are never seen onstage, their pervasive presence hangs like hairspray, shaping their women's lives. We see how each woman is, in equal parts sustained by the men in their lives, as well as made stronger through resistance against their guys' wills and whims.
The place and time is critical to this play, and the amazing production team cleverly transports us there. Costume Designer Pamela Scofield has captured the fashion of the late '80's… so exactly, in fact, that during intermission, another woman and I shared that we had both owned the exact pair of jeans worn by Shelby. The marvelous set created by Robert Koharchik is straight out of the beauty salon in the town in which Robert Harling grew up, right down to the wallpaper, thanks to a photo discovered by dramaturg Jean Gordon Ryon. 
Although the 1989 film is often referred to as a "Chic Flick," this beautiful and touching play of friendship and growth, loss and love is iconic, and a production that everyone will be able to identify with in some way.  This is another outstanding production in Geva's fine lineup of the 2017/2018 season that you won't want to miss.
Photo Credit: The cast of Geva Theatre Center's STEEL MAGNOLIAS. Photo by Goat Factory Media Entertainment.
---
Carol White Llewellyn is Editor of BeyondTheNest.com and the host and producer of Conversations with Creatives, a cable and online TV program that explores the arts and celebrates artists and their work.
Debra Ross is the Publiser of KidsOutAndAbout.com and BeyondtheNest.com