Beyond the Nest Reviews: Geva Theatre's Marvelous Wonderettes: Caps and Gowns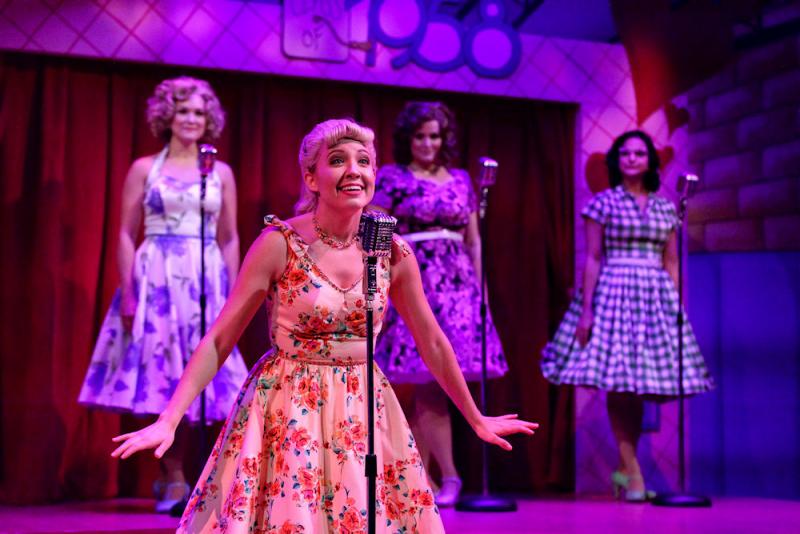 -This is a high-kicking, laughter-launching tribute to 50's and 60's music and the songleader squads that unleashed the glorious girl groups movement. The production propels us back in time to join bombshell Betty Jean (Christina Stroup), sexy Cindy Lou (Emilie Faith Thompson), meticulous Missy (Audra Cramer) and saucy Suzy (Ally Young-Price) on graduation day in 1958.  If you saw last year's production of The Marvelous Wonderettes, the quartet will feel like old friends. If you didn't, you'll soon think of them that way.
In Act One, we join the crinoline-clad ladies on graduation day in the High School gymnasium for a quick look back at the year and the roles each has played in life at Springfield High. "Besties" face off when old rivalries surface, but they are soon brought to reconciliation.
As distinctive as each of their characters and stunning solo voices is, the four come together for a pitch-perfect performance of song, dance and entertaining antics that includes lively bouts of audience interaction.
In Act Two, we join the four friends ten years after graduation, now clad in signature colored miniskirts and go-go boots. Missy is marrying her beloved Mr. Lee. In this production, due to a "lucky happenstance," Jack Garner just happened to be seated in the "hot spot."  You couldn't purposely have staged a better or more amusing foil.
Although the actual story line for Roger Bean's The Marvelous Wonderettes was more robust than it is for Caps and Gowns, the real core of jukebox musicals* such as these is the music, and Bean's sequel doesn't disappoint. The sold-out audience could barely refrain from singing along to 50's and 60's treasures such as "At the Hop," "Graduation Day," "Rockin' Robin," "Sealed with a Kiss," "Wishin' and Hopin'," and "What a Wonderful World."
Melissa Rains Anderson directed last year's Marvelous Wonderettes, and is coming off her recent directorial coup of Geva's monumentally successful In the Heights. She reprises her innovation and ingenuity in this delightful sequel, designed to appeal to all ages. Great classic pop tunes of the 50's and 60's era are given a new spin through contemporary arrangements and delivery.
The Marvelous Wonderettes: Caps and Gowns is on stage at Geva's Fielding now through December 24. Don't miss this light-hearted and charming romp.