Beyond the Nest Reviews WallByrd Theatre's TAMING OF THE SHREW
-By Carol White Llewellyn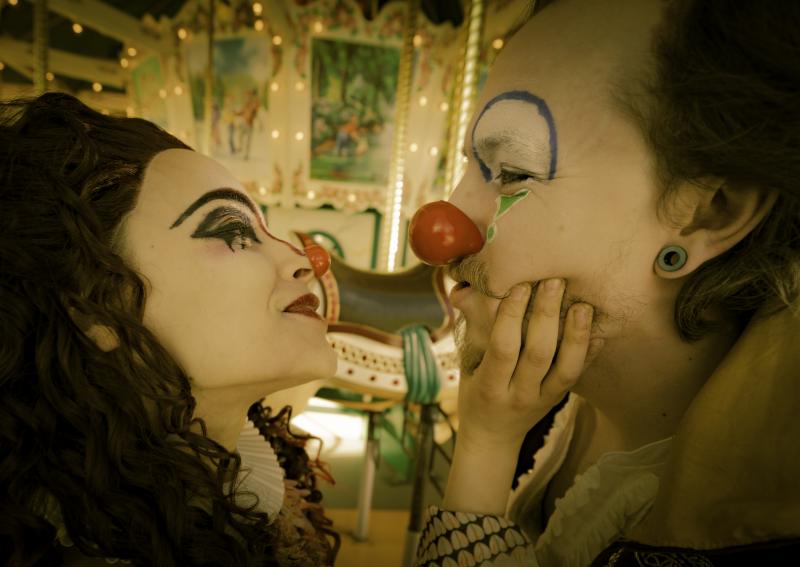 From the moment you walk into the Lyric Theatre, you realize this will be a Shakespearean production unlike any you've seen before. 
In pre-performance antics of The Taming of the Shrew, a juggler is clowning around onstage, drawing the audience in (quite literally!) and setting the scene for the laughter that is to follow. Time is fluid, and there is no fourth wall in this production, as the unique space and intimate audience setting become fair ground for truly immersive theatre.
For those unfamiliar with the plot, Bianca Minola (Emily Putnam) has myriad suitors, but alas, her steadfast mother (Judy McCaffrey) declares Bianca cannot wed until after her elder sister Katherina marries. The problem is that the fiery Katherina (Fiona Criddle) is known far and wide, not only for her sharp tongue, but also for wielding a wicked temper. Hilarity ensues when characters begin switching names and taking on new professions and identities in order to gain access to the fair and fairy-esque Bianca, endeavoring to win her heart.
Meanwhile, Petruccio (played with bravado by Ged Owen) is recruited with promises of wealth, to wed cantankerous Katherina, who goes kicking to the altar.
Many in this talented cast will be familiar to Rochester audiences. Jonathon Lowery of PUSH Physical Theatre fame uses his extraordinary talents of mime and movement to ratchet up Hortensio's already-comedic character. Lance Hoffman, whose jazz combo performs around Rochester, plays Gremio. In humorous contrast to fellow actors, Lance Americanizes Shakespearean English, making it ever more comprehensible. And although Cassie Buscemi as Grumio has few actual lines, her comic timing and ability to do physical humor guarantees laughter whenever her character takes to the stage.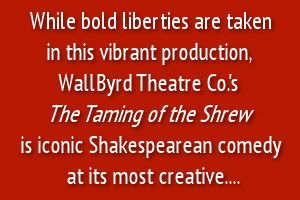 This production is a feast for the senses. The creative set, vivid costuming, spectacular wigs and authentic clown makeup create a circus atmosphere, further underscored by the scent of the popcorn distributed as you enter. While I am not generally a fan of slapstick comedy, I could appreciate the brilliance of the meticulously choreographed physical antics, staged by combat director Alex Barbour and choreographer Anne Harris Wilcox, and carried out to perfection by the cast. And although this is not a musical, music is so cleverly infused throughout, that it almost becomes a character unto itself.
When I spoke with WallByrd's innovative Artistic Director Virginia Monte recently, she shared that one of her goals for WallByrd Theatre Co. is to make the classics accessible to everyone, and to show that the emotions at the core of good theatre are something with which everyone can connect.  Yes, this is still a production of Shakespeare, so you may not catch every turn of phrase, but this excellent cast interprets the play in such a way that there can be no doubt what is happening.
While bold liberties are taken in this vibrant production, The Taming of the Shrew is iconic Shakespearean comedy at its most creative, with physical comedy, plot twists, mistaken identities, and a happy ending. Those who love Shakespeare, or the classics, or inspired theatre should not miss this production.
WallByrd Theatre Company's production of Taming of the Shrew takes place at the Lyric Theatre, located at 440 East Avenue (use the side entrance on Prince Street, off East Avenue).  The show runs Thursday through Saturday, April 4-7 and April12-14 at 8 pm, and Sunday April 8 and 15 at 3 pm.  General admission tickets are $22, and they can be purchased online or at the entrance. 
---
Carol White Llewellyn is Editor of BeyondTheNest.com and the host and producer of Conversations with Creatives, a cable and online TV program that explores the arts and celebrates artists and their work.
Photo of Petruccio (Ged Owen) and Katherina (Fiona Criddle) courtesy of WallByrd Theatre Co.