HelloFresh vs The Skeptic: a KidsOutAndAbout Review

If I were Oprah, HelloFresh would be one of my Favorite Things.
HelloFresh delivers fresh ingredients to your door to make three healthful, homemade meals a week with premeasured ingredients and step-by-step recipe cards with pictures.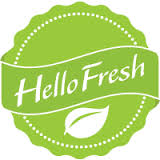 No sorting through cook books to find recipes, no lengthy shopping lists, no battling children to behave in the grocery store. Just dinner. Now. Done.
You love the idea, but how to convince your significant other to loosen the purse strings? Allow me. I've prepared several rebuttals for the arguments of my tight-fisted accountant husband.
Why can't we just buy our own groceries?
Well, we can. But making meals is not as simple as just buying groceries. There's the meal planning, the list making, the pantry checking, the shopping with small children, the grocery bag unloading, the ingredient measuring, etc. And in the end you may have chosen an overcomplicated recipe ending in a massive pile of dishes and leftover ingredients that will go to waste because you have no other recipe in which to use them.
The whole point of HelloFresh is that they do the thinking, the shopping, the measuring, and the recipe prep. The ingredients are even sorted into labeled bags according to each meal. You simply open the bag you need, follow the simple instructions with photos of each step, and clean up about five dishes per meal. Done.
But I'm not a good cook. What if I don't know how to pan-sear or flambé?
These recipes are simple but not boring. We ate eggplant parmesan, roasted acorn squash over a warm lentil salad, and a tortellini soup with zucchini and green beans. No complicated techniques, no fancy gadgets, no more than 30 minutes per meal. The recipe card offers all the information you need, including which kitchen utensils are required (usually no more than a pot, a knife, and a cutting board), and a picture of all the ingredients. Each step in the recipe is accompanied by a picture. It's literally idiot-proof.
What if I don't like the meal choices?
I've looked into other food services, and most are pretty fancy-schmancy (I don't think I'm pulling off pickled grapes and frisee as a Monday night meal). With HelloFresh, you will recognize all the ingredients: Baked Shrimp with Linguine or Chipotle Black Bean Chili. Each week you choose three meals out of five options, so you're able to avoid anything too far out of your comfort zone.
But HelloFresh also forced me to try a few new foods. Lentils are a staple food for vegetarians, but I always assumed they were hard to make. My HelloFresh recipe said to put them in water and simmer for 20 minutes. Yep, it was that easy. It's opened up a whole new world of lentil-laden recipes for me to try!
I'm a vegetarian, so I'm out.
I'm a vegetarian too! This is the 21st century; of course there's a vegetarian option. And their Classic Box takes care of the omnivores.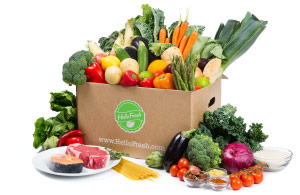 But the money. $60 a week seems like a lot.
Is it though? The meals average around $10.50 per person per meal for the Classic Box, and only $9 per person per meal for the Veggie Box. You'd spend more than that if you went to a restaurant or ordered take-out. And you'd probably spend just about that if you bought your own ingredients (unless you're making making mac n' cheese, and there's a reason that's 99 cents a box…)
Remember, you're paying for fresh ingredients, not processed food. You're paying for someone else to do all the legwork; you're paying for it to come straight to your door. And, of course, you're paying for food. This isn't wasteful spending; you were going to buy groceries this week anyways.
You're a little too enthusiastic. There must be some hang ups.
Well, ok, I do have one suggestion for the company. I would like to offer HelloFresh as a gift for others. Not a subscription, just a few weeks of the service. Yes, you can buy HelloFresh gift cards, but I would like to make it even easier than that to give to my sister who just had a baby or to that friend who just moved to a new home. I'd love to send boxes for a set amount of time (two weeks or one month). Boxes that just start showing up, like a present on your doorstep, so that the gift-receiver can start enjoying it right away without having to remember to use a gift card. What better gift than to say, "Hey, dinner's on me this week"?
Ready to dive in? Head over to HelloFresh. And let them know you heard about it from your most trusted resource - KidsOutAndAbout!
---
© 2014, KidsOutAndAbout.com
Kathleen McCormack is the managing editor of KidsOutAndAbout.com and lives in the Rochester, NY area with her two young kids, her obsession with Pinterest, and one very frugal husband.