KidsOutAndAbout Review of BlackFriars' Little Women, the Musical
-By Danielle and Nicole Llewellyn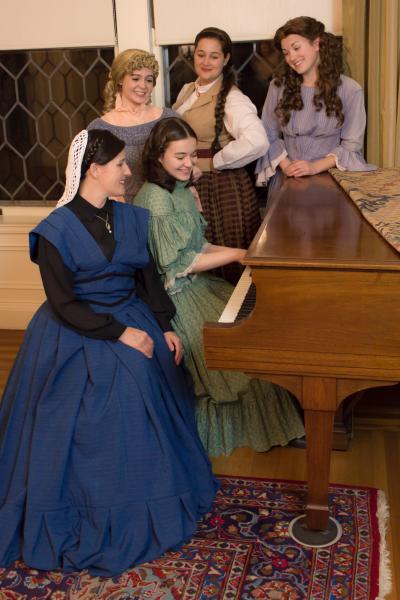 Little women? They are anything but. The four March sisters share a fierceness and unbreakable bond that epitomize the true meaning of sisterhood. They inspire courage, determination, and forgiveness through simple yet meaningful acts. Each character provides a unique outlook on life, making this the perfect performance to attend this holiday season.
Set in the Civil War era, the story of Little Women, the Musical, at Blackfriars Theatre in Rochester through December 31, 2017, tells of the four March sisters, Josephine "Jo," Elizabeth "Beth," Margaret "Meg," and Amy who live in New England. Jo, an aspiring writer, pursues her career in New York city, avidly and persistently sending her work to publishers, despite rejection after rejection. Beth is the musical talent of the family, performing melodic tunes on the piano, and whose warm-heartedness is endearing to everyone. Meg is deemed the beauty of the family, who manages the household and keeps her younger sisters in line as the eldest sister. Amy is the youngest of the bunch, yearning to be a sophisticated socialite, much like her Aunt March, the aristocrat of the family. This is a story of growth, forgiveness, and love. It shows how the girls blossom into young women, demonstrates what it means to truly forgive, and reveals the unconditional love that family members have for one another.
This rendition of the book by Louisa May Alcott is portrayed in musical form, with each actor bringing a special magic to the performance. Cassidy Thompson (Jo), adds a quirky as well as a spirited essence to her character, which includes a critical humor aspect. Ruth Bellavia (Marmee) presents her character with a tender and caring nature. Natalia Hulse (Beth) performs with sophistication and poise, lacing maturity through every line. They each contribute a unique part of their personality and perspective on their portrayal of their character, working together seamlessly to deliver a captivating performance.
Filled with emotional ups and downs, Little Women, the Musical perfectly captures the enchanting, personable March sisters and their various adventures. It is a play that made the audience laugh, cry, and do everything in between. Right from the get-go, the musical draws you in, beginning with one of Jo's "violent and bloody" novels. It continues to enrapture the hearts and minds of the audience. But what would a musical be without music? With fast-paced, exciting music one moment,and romantic, swooning ballads the next, the orchestra keeps the audience on its toes. The music is effortlessly woven into every scene, creating an enjoyable atmosphere.
Little Women, the Musical is based off an age-old classic that will resonate with people of all ages. The show runs 3 hours, so younger children may find it hard to sit still for so long, but it is filled with superb artists who know how to act and sing with confidence and grace, making impossible not to fall in love with this production. People young and old, from all walks of life, will find the humor and pleasure in such an unforgettable musical that easily charms and delights.
Little Women, the Musical runs through December 31. 2017 at Blackfriars Theatre on East Main Street in downtown Rochester. Click here for information and to order tickets.
---
©2017, KidsOutAndAbout.com
Twins Danielle and Nicole Llewellyn are freshman at Syracuse University. Danielle is studying Sociology and Nicole is studying Chemical Engineering. Both write for the Syracuse U. Tab newspaper.