Remembering the Holocaust at DC's Holocaust Museum
By Meg Brunson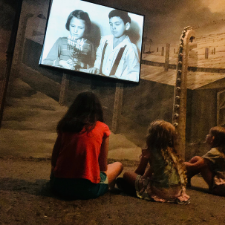 I've visited the Holocaust Museum twice - once in highschool with a class trip, and once with my mother when I was in college. Bringing the family to DC, I knew without a doubt that I wanted to revisit the Holocaust Museum a third time, and introduce the content to my children, despite them being young. The museum is located on the national mall and is easily accessible via the Metro's Smithsonian station.
When we arrived, we first brought the kids to the exhibit Remember The Children: Daniel's Story. This exhibit is interactive and told from the perspective of a young buy named Daniel. After watching a brief film that introduces Daniel and the Holocaust, we were able to walk through realistic environments as they changed throughout the Holocaust - as Daniel is moved from his home to a ghetto and into a concentration camp. The kids got to see, touch, and listen to exactly how Daniel's life changed with the Nazi involvement. At the end of the exhibit, the kids were invited to send a note to Daniel - and it was in those moments that we confirmed that they understood the emotion behind the story.
Before entering the Permanent Exhibit, we had the opportunity to speak with a survivor. There was a table and chairs set up right near the info desk, and we had the pleasure of meeting Joel, a man who had a unique experience in the Holocaust. He was born months after his father was sent to a Nazi concentration camp. His family had gone into hiding. He lived with an assumed name and lived in fear throughout the Holocaust. His father survived the camps, and they received news that he was released, but he never made it home. It's still unknown what happened to his dad. We also discovered that Joel had ties to Rochester, NY - our hometown - and it was really nice to relate to him in that way. It really makes you think about the people you meet everyday - and not knowing their stories.  Having the opportunity to speak to a survivor, and connect with them on a personal level, really made the experience at the Holocaust Museum even more powerful. Now it was not something that happened to Jewish people, it was something that happened to our new friend, Joel.
In the Permanent Exhibit, we kept a close eye on the kids to ensure that they were emotionally okay with the things they were seeing, and we did shield them from some of the more graphic and sensitive content. 
Helpful Hints for a Terrific Trip
Every Child is Different - The Holocaust museum's permanent exhibit has a lot of sensitive content. When attending with children, consider starting in the Daniel's Story exhibit, where the material is more mild and told from a child's perspective. Once you've been through that exhibit, you'll be better prepared to assess whether you child will be emotionally okay in the permanent exhibit. The museum's official recommendation is that the Permanent Exhibition is for visitors eleven and older, and Daniel's Story is for visitors eight and older. In the permanent exhibit, the most sensitive items are located behind privacy barriers to allow parents time to assess whether their children should consume the content.
Timed Entry - During the spring and summer the museum uses a timed entry ticketing process to control crowds in the permanent. Tickets are free, however if you choose to reserve online there is a $1 per ticket charge. No ticket is necessary to visit in the fall or winter.
Bring these things - You may bring water in a capped bottle, just have it in your hand and be prepared to take a sip when you go through security. Wear comfortable shoes (there is a lot to see!) and consider bringing a sweater since the museum is kept cold to preserve the artifacts. Learn more about what you can/can't do at https://www.ushmm.org/information/visit-the-museum/building-policies
The Holocaust Museum is certainly an emotional visit, but it's important that we remember the events that happened in Europe during that time. We remember, so that we can do better. So that THAT history will never be repeated. We made the decision to bring our whole family, including children ages four through twelve, and do not regret that decision at all. This museum is a staple for anyone visiting DC. Start planning your visit at https://www.ushmm.org/
Read about some of the other adventures we're having on our Year-Long Road Trip!

---
© 2019 Meg Brunson
All opinions expressed are my own. See more on Instagram!
Meg is a mommy blogger, Facebook marketer, and much more. She is a mom to four kids who live full-time in an RV exploring the US! As a former Facebook employee, Meg remains a Facebook addict and handles KidsOutAndAbout.com's Social Media Marketing in addition to providing freelance services for other small businesses on how to best leverage Facebook as a part of their marketing strategy. Meg also hosts the FamilyPreneur Podcast, a podcast for parent entrepreneurs raising entrepreneurial children. Learn more about Meg at MegBrunson.com!