Review of Pretty Woman: The Musical at Proctors

by Katie Beltramo
Pretty Woman: The Musical reimagines the hit 1990s romantic comedy classic as a big musical put together by an all-star team. If hearing that Pretty Woman has been transformed into a musical makes you tilt your head and wonder, "How will that work?", you're not alone. But they manage bt amping up some scenes into big productions, gifting the romantic leads with character-developing ballads, and, most importantly, injecting plenty of humor.
This is a super-fun moms' night out or date night, and the storyline sticks close to the movie with only minor alterations to key plot points. If you're familiar with the movie, you can imagine how costumes, scenery, and a strong company of singing, dancing performers can transform the seedier sections of Los Angeles or a shopping trip to Rodeo Drive into musical-worthy spectacles. While Jesse Davidson as Vivian Ward and Adam Pascal as Edward Lewis don't have the sheer magnetism and close-up chemistry of Julia Roberts and Richard Gere, they make up for it with big voices. Vivian's is at its best when she hits some huge, soaring notes, and Edward's rocker's rasp doesn't feel like exactly like what you'd expect from an uptight businessman, but when you remember that Grammy-winning Bryan Adams is behind the music and lyrics, it all makes sense. Each character also has the opportunity to vocalize their personal history and evolving feelings through the musical numbers, so there feels like there's more character development in the musical than in the original movie.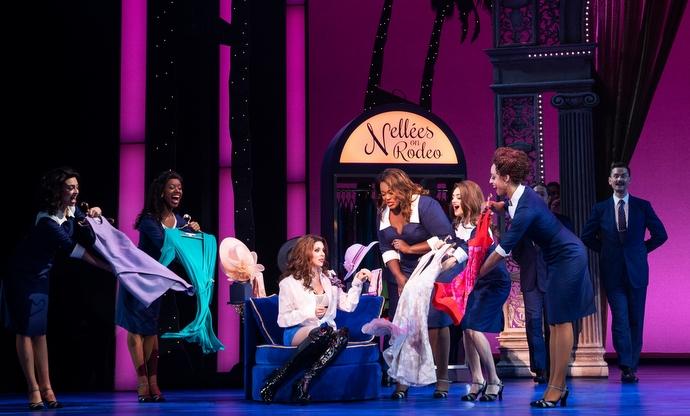 The big voices and performances from some of the supporting cast are a fantastic addition to the show. When Vivian and Edward head to the opera, the audience is treated to a truly soaring performance from Anju Cloud as the opera's prima donna. Kyle Taylor Parker, who plays a character called Happy Man, pops up in one role after another so much that it becomes a running joke of the show (there he is again!), and his infectious performance and high energy singing and dancing mean that the audience is alway glad to see him. Jessica Crouch plays Vivian's irresponsible-but-stalwart friend with charm and a terrific voice. Trent Soyster, who plays Giulio the bell hop injects tons of humor conveyed almost entirely through hilarious body language, goofy mincing about the stage, and dancing.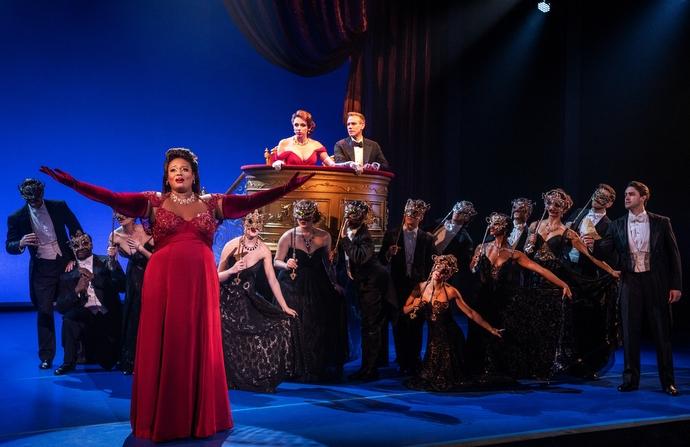 Should you bring your tween or teen?
The musical follows the movie's storyline closely, which means that along with a couple of curse words, you'll see prostitution, sexual activity, and an attempted sexual assault. None of it is more explicit than the movie, but it somehow feels... squirmier because it is happening live and in-person. If you imagine the discomfort that you feel when you're sitting on your coach at home watching tv and a sex scene begins, now imagine that it is happening live and it's not easy to casually wander into the kitchen for a snack. I watched the show with a girlfriend and I still felt myself thinking, "Oh, please fade to black!" about five seconds before the stage mercifully faded to black. If you and your (older) child have both seen the movie and are big fans, you'll be able to power through that discomfort. If not, you might want to bring a grown-up friend instead.
That said, if you do end up bringing your tween and teen, the story offers valuable themes worth discussing. Pretty Woman has plenty to say about treating people with  respect and how other people's casual mistreatment or kindness can have an impact on how people see themselves and their sense of belonging in a community. Both Vivian and Edward provide more insight into their personal histories and how they've come to arrive where they were at the show's opening, so it's a good reminder that we don't know other people's challenges and private stories.
Pretty Woman: The Musical is a surprisingly fun night out.
---
Pretty Woman: The Musical is playing at Proctors, Schenectady, through Sunday, November 13.  The show's run time is about 115 minutes (about 2 hours) with a 20-minute intermission. For schedule and ticket information, call 581-346-6204 or visit www.proctors.org.
The tour will continue all around the country. For dates and locations, click here.
Photos provided by Proctors. Credit: Matthew Murphy for MurphyMade.
---
© 2022 Katie Beltramo.
Katie Beltramo, a mom of two, is communication director at Kids Out and About and blogs at Capital District Fun.