Visiting Independence Hall and the Liberty Bell in Philadelphia, Pennsylvania
By Meg Brunson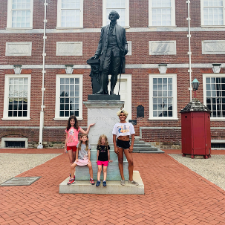 Again, my eight year old guided us into Philadelphia because of the rich American history. She really wanted to see the Liberty Bell and Independence Hall - and so did I!  We were able to find a parking garage a short walk from Independence Hall, and to enter the Hall, you do need to have a timed ticket. The tickets are free, but you should start at the visitor center at 6th and Market Streets to grab those. We opted to tour Independence Hall before going to see the Liberty bell, with is located between Independence Hall and ther Visitor Center, at Liberty Bell Center. 
Independence Hall offers a guided tour where we were able to see the Courtroom of the Pennsylvania Supreme Court and the Assembly Room, where both the Declaration of Independence and U.S. Constitution were signed. We were also able to enter the West Wing, where we were able to see original printed copies of the Declaration of Independence, the Articles of Confederation, and the U.S. Constitution. Unlike at the National Archives in DC, we were able to take (non-flash) photography in this area with the documents!)  
Inside Liberty Bell Center were museum exhibits explaining the history of the Liberty Bell, and ending with the Bell itself and opportunities to take pictures.
In the visitor center, the kids completed their Junior Ranger books and received Jr. Ranger pins for their hard work. We enjoyed a snack from the Hershey cafe, and took some additional photos with statues of Ben Franklin and Rockly Balboa within the visitor center. 
At this point of our visit, we got rained on - a LOT. So, we ended our visit to historic Philadelphia short. We would have loved to visit Love Park and a nearby playground - but the weather had other plans... mayvbe next time!
Start planning your visit at https://www.nps.gov/inde/index.htm 
Read about some of the other adventures we're having on our Year-Long Road Trip!

---
© 2019 Meg Brunson
All opinions expressed are my own. See more on Instagram!
Meg is a mommy blogger, Facebook marketer, and much more. She is a mom to four kids who live full-time in an RV exploring the US! As a former Facebook employee, Meg remains a Facebook addict and handles KidsOutAndAbout.com's Social Media Marketing in addition to providing freelance services for other small businesses on how to best leverage Facebook as a part of their marketing strategy. Meg also hosts the FamilyPreneur Podcast, a podcast for parent entrepreneurs raising entrepreneurial children. Learn more about Meg at MegBrunson.com!