Address:
3903 North Saint Mary's Street,
San Antonio
,
TX
,
78212
29° 27' 44.3808" N, 98° 28' 25.3056" W
Business/organization type:
What our organization offers:
Ages for which our activities are most appropriate:
The San Antonio Zoological Gardens and Aquarium is an Association of Zoos and Aquariums-accredited zoo in Midtown San Antonio, Texas, United States. The 35-acre zoo has a collection of over 3,500 animals representing 750 species. The zoo is open year round*. Visit our calendar for daily hours and events. *Operating hours are subject to change due to inclement weather or private events. Extended hours for special events.
San Antonio Zoo®, operated by San Antonio Zoological Society, is a non-profit organization committed to securing a future for wildlife. Through its passion and expertise in animal care, conservation, and education, the zoo's mission is to inspire its community to love, engage with, act for and protect animals and the places they live. The zoo welcomes more than a million visitors each year and is open year-round. San Antonio Zoo is accredited by the Association of Zoos and Aquariums, the Zoological Association of America, and Humane Certified by American Humane.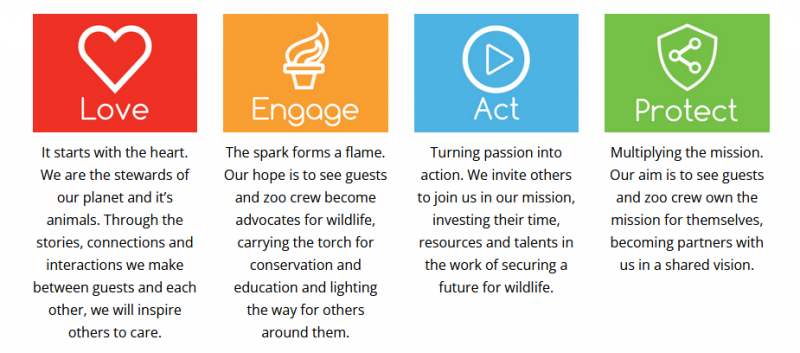 A Few Facts About the San Antonio Zoo
Established in 1914
The San Antonio Zoo is a 501(c)3 non-profit organization
Open year round
The Zoo spans 56 acres. Thirty-five acres are public pathways and exhibits
The Zoo is home to a wide variety of animals representing 750 species
Received numerous awards for captive propagation – and we participate in over 230 endangered species programs
Accredited by the Association of Zoos and Aquariums with twenty-five plus years of continous accreditation status
Accredited by the Zoological Association of America
Acclaimed breeding programs for endangered and threatened species
The first zoo in the country to breed the endangered whooping cranes
Visited by nearly 80,000 school children each year
First to reproduce the endangered white rhinoceros in North America
The first to hatch and rear Caribbean flamingos
Successfully bred 53 endangered snow leopards since 1970
First to build an amphibian conservation center
1,000,000 guests annually and growing (60% local; 40% tourist)
The only zoo in the country to have separate children's zoo area, Kronkosky's Tiny Tot Nature Spot, 
designed for kids 5 and under
Only zoo in the country to have a senior veterinarian on staff that is double boarded in zoo medicine and
in reptile and amphibian medicine 
Open hours:
Sunday:
9:00 am-5:00 am

Monday:
9:00 am-5:00 pm

Tuesday:
9:00 am-5:00 pm

Wednesday:
9:00 am-5:00 pm

Thursday:
9:00 am-5:00 pm

Friday:
9:00 am-5:00 pm

Saturday:
9:00 am-5:00 pm

Started in 2004, Will Smith Zoo School is a licensed preschool. It is one of the only preschools in San Antonio that uses nature as the integrating thread tying together the school's philosophy, methodologies, classroom design and outdoor space.
Organization learning resources